We're excited to bring back our most popular Art Fusion series to the newly renovated Liaison Capitol Hill Rooftop!
And for this event it is all about the RHYTHM, the invigorating one that gets under our skin and makes our heart sing and soul dance. Blending the elements of electronic and live music, dance, and live performances, we'll take you on an artistic journey you won't encounter elsewhere.
This event is part of Art Soiree's Summer Art Fusion Series at the Rooftop of Liaison Capitol Hill!
Make this your destination for Art Infused Summer nights and succumb to an inspiring artistic experience en plein air. With each night unique and with different artistic experiences. From the moment you walk-in and through the end of the night, live performances and acts by local artists will ignite your senses, letting you experience and engage with art on a whole new level.
TICKET: $10 online; $20 at the door if not sold-out – https://rhythmndance.eventbrite.com
Tickets for each event are limited, so make sure to reserve yours before it's sold out. Happening every other Saturday during the Summer from June 3 through August 19. Check profile for all event listings!
---
FEATURED PERFORMANCES BY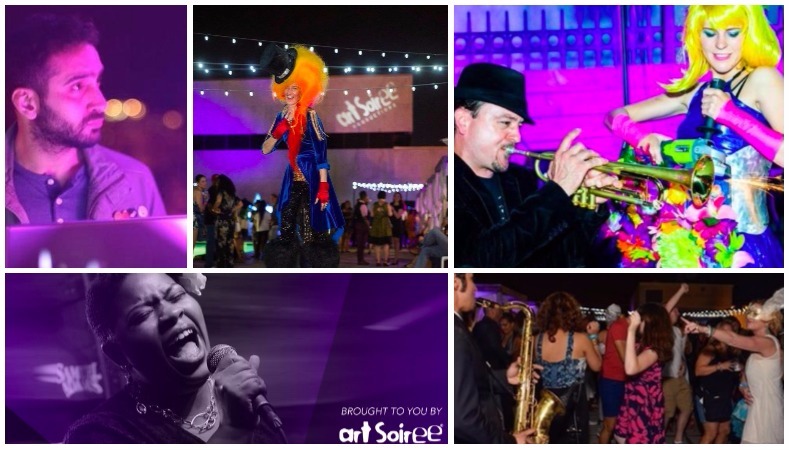 CARLY HARVEY + KISS & RIDE BAND (Live Performance)
Carly Harvey is a blues and jazz vocalist based out of Washington, D.C. Her music can be described as a combination of Blues, Jazz, Soul, Americana, Roots and Rock styles. Some of her influences include Bonnie Raitt, Susan Tedeschi, Ella Fitzgerald and Nina Simone. She performs solo and with her other projects; blues band Kiss and Ride and jazz duo Les Deux. In addition to recently releasing US single Love Me like a Man, Carly has also released an international crossover album titled "Among The Stars" and an E.P. titled Y.A.M.W.A.O. with Italian producer/composer Taste of Dream. carlyharvey.com
Kiss & Ride is a high energy blues ensemble lead by Carly Harvey. They strive to extend blues to younger audiences to bridge the age gap between blues aficionados. The band performs a combination of originals, blues standards, and cool bluesy arrangements of current popular music. www.facebook.com/kissride
NAT FOX (Live Performance)
A multimedia artist extraordinaire, Nat has been a featured artist in DC for nearly a decade. From Dogography, to celebrity portrait series, to unique costume designs and live performances her talents have really no limitations.
MASRAE (Video Art Projection)
Local visual artist who fuses live, original and found footage with music to create a world of euphoric synesthesia. For this event he will take the architectural theme to the next level by bringing it to live with his unique audio/visual work. Combining video, images, art and photography this visual artist creates an experience like no other. Customizing each of his projection work to the space and theme of the event.
& MORE
Are you an artist or performer interested in being a part of this series? Shoot us an email
The Liaison Capitol Hill is just steps away from Union Station and the National Mall's world-famous monuments and museums.  The 7,000 square foot Rooftop Pool and Bar is the largest in the city and is the only open-air rooftop bar on Capitol Hill. Enjoy city views, handcrafted cocktails and light fare.